Deutscher Text >>>


New digital technologies for more flexibility



From 7 to 13 May 2020, packaging machine manufacturer Schubert will once again be presenting itself as a driving force for innovative technologies and packaging solutions at the world's leading interpack trade fair in Düsseldorf. Based on its modular machine concept, Schubert will be demonstrating new answers to the increasing digitalisation of machine and robot functions live at its stand. With high-level flexibility, the well-known manufacturer is responding to the increasingly complex market requirements of greater product diversity and smaller batch sizes. Additive manufacturing offers great opportunities here: With 3D printing, processes can be entirely rethought and optimised.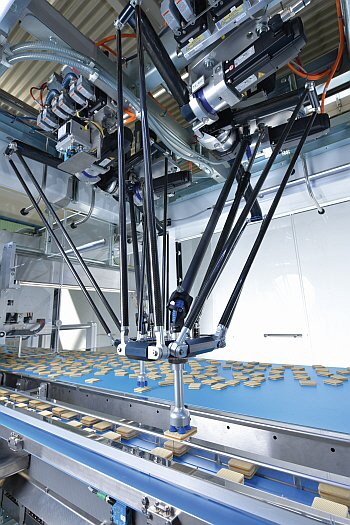 The new T4 and T5 pick & place robots from Schubert, which are based on the Delta robot type, offer high performance in a small space



Faster, more flexible, more sustainable – the packaging industry is currently facing several challenges. In order to satisfy these requirements economically and ecologically as a manufacturer in the packaging process, highly flexible machines and consistently efficient processes are necessary. Schubert already offers an advantage here with the modular design of its TLM systems, which the group is continuously advancing by developing new robots and digital solutions. At the interpack trade fair, the packaging machine manufacturer will demonstrate the flexibility of its high-performance technology with its new cooperative robots – the cobots.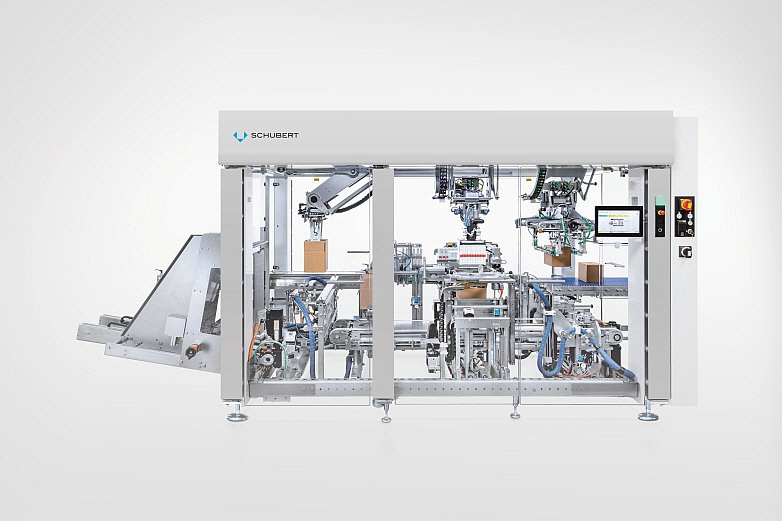 At the trade fair stand, a lightline Cartonpacker from Turkish customer Tören will be packing boxes filled with chocolate bars into RSC cartons



Cobots – the next level of automation
With the cooperative robots, which work without a safety cage, packaging processes of small batch sizes can be automated and significantly optimised. Schubert is developing a comprehensive system for its new cobot modules. It includes an intelligent and easy to configure control system, a vision system that allows it to perceive its environment, feed belts, format parts and much more with the help of artificial intelligence. Each Schubert cobot requires no more than the space needed for a table with boxes and one or two people. The cooperative robots are extraordinarily fast and relieve workers of monotonous tasks in the packaging process. For example, they can pick up jumbled products without prior separation and place them onto a conveyor. Working with them is also very safe: When a worker approaches a Schubert cobot, the robot initially slows down and finally stops completely. A prototype of the cobots can be seen live and in action at the exhibition stand.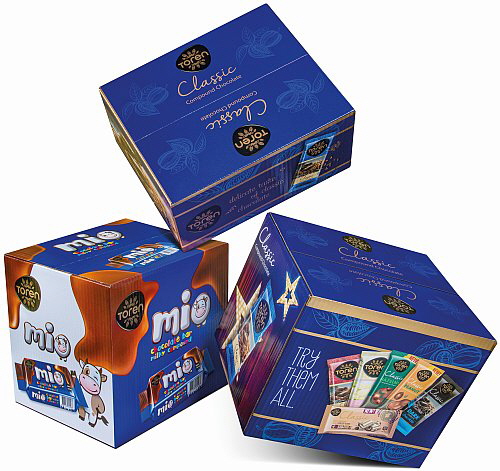 Every minute, the lightline Cartonpacker packs up to 47 cartons in 12, 24 or 60 carton formations into the RSC cartons



New pick & place robots for higher output density
If you need to accommodate higher performance in a small space or require more mobility in product handling, Schubert's specialised T4 and T5 robots are the right solution. They complement the proven F4 robot, which is used in numerous picker lines from Schubert. The design of the new pick & place robots is based on the well-known delta robot type. Their compact rectangular working area makes them perfect for high performance in the smallest of spaces: Up to six of the new four-axis T4 robots can work simultaneously in a single TLM frame. The T5 variant offers a completely different – and also new – option for machine processes. It has a fifth axis with which products can be pivoted and tilted. At the booth, a compact picker line will show how effective and flexible the new robot type can be. The machine processes both plastic trays and cardboard trays.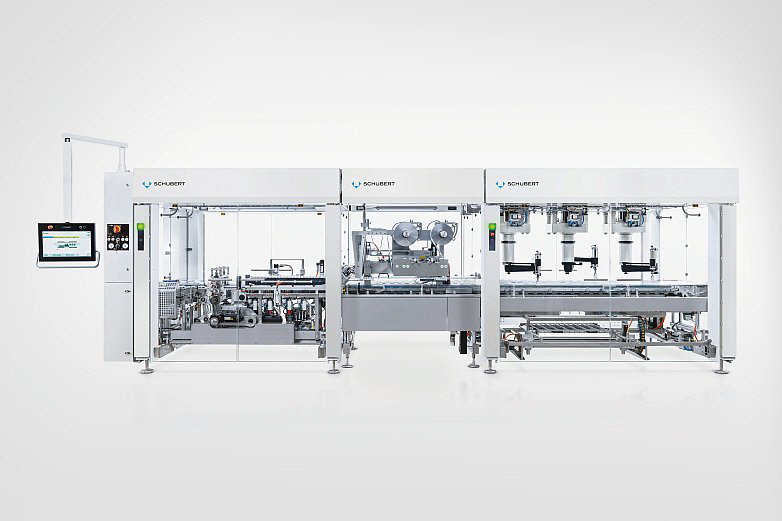 The lightline Flowpacker will be demonstrating the latest sealing technology from Schubert at the fair: the heat-sealing system with a flying cross-sealing unit



Virtual parts warehouse with 3D printing on demand
3D printing is revolutionising not only machines but also warehousing, as electronic design data can be retrieved "on demand" in seconds anywhere in the world. Schubert is now making this access possible – with the new part streaming platform from Schubert Additive Solutions GmbH. The virtual warehouse is fast, reliable and economical, and represents a major step towards secure, flexible production. The digitally stored parts are available everywhere, eliminating long waiting and delivery times. In addition to simple spare and wear parts, various robot tools can be printed via the part streaming platform.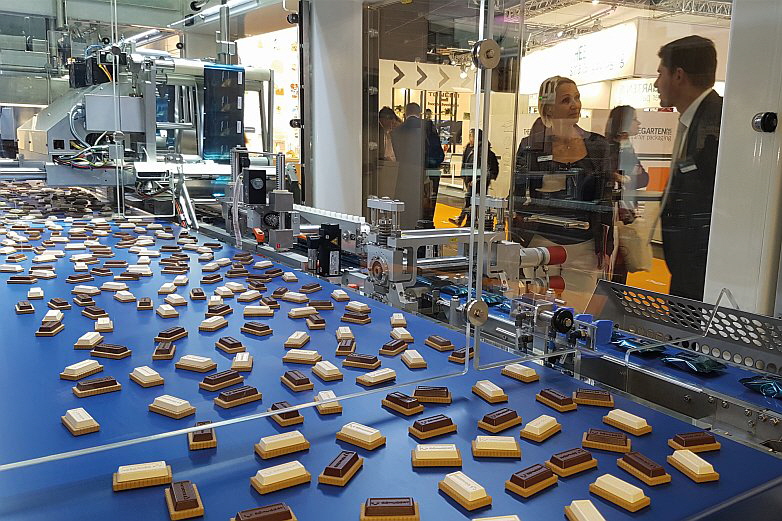 The lightline Flowpacker, which can be seen at the interpack trade fair, will pack sandwiched biscuits and biscuits with chocolate topping, either naked or in trays into flowpacks

.

Other specialised subsidiaries of the Schubert Group such as Schubert-Pharma, Schubert-Cosmetics and Schubert-Consulting will also be presenting themselves at the fair. A total of four packaging machines with real customer applications from the confectionery industry can be seen in action at the exhibition stand. Two of them, a Flowpacker and a Cartonpacker, are among the preconfigured systems in the lightline family, which stands out with its compact design and short delivery times. Schubert will be demonstrating various format changes live on several machines, which can be carried out even faster for customers, especially because of their easy-to-change format parts.


New potential and market opportunities thanks to optimised packaging processes

Schubert-Consulting, the specialist in creative solutions in the field of packaging technology, will present itself at the world-leading interpack 2020 trade fair in Düsseldorf from 7 to 13 May at the Gerhard Schubert GmbH booth. With their know-how, the consulting specialists can optimise the entire process chain for both new and existing production lines, thereby creating significant added value for their customers. Real examples will be used to demonstrate the transfer from plastic to more sustainable packaging materials.

The packaging world is changing rapidly. More than ever before, manufacturers are required to make their packaging processes more flexible and sustainable without losing sight of economic efficiency. This is where Schubert-Consulting supports its customers. As a supplier-independent engineering partner, Schubert-Consulting thinks in a manner that is open and results-oriented. The team advises its customers along the entire packaging process, combining decades of experience and innovative approaches. The focus is not only on planning new packaging lines, but also on the realignment and optimisation of existing lines. This also includes the conversion to alternative and sustainable packaging materials – from packaging development, concept definition and all related processes, to the selection of the most suitable supplier.

An integrated planning approach for economical automation
Schubert-Consulting's integrated planning approach is based on a methodical working style.The first step towards a new, individual packaging concept for the customer is a systematic and comprehensive analysis, which also includes an assessment of the competition and market situation. Based on this analysis, the requirements for future packaging needs are bundled by the various corporate departments and within the overall context of the manufacturer's corporate strategy. Then, in several steps, Schubert-Consulting develops a complete and promising concept through to planning the appropriate packaging line. The objective is to automate the packaging process for the customer in a technically- and cost-effective way.

The method-based approach gives customers planning, automation and implementation security for their internal project approval and investment. This allows them to decide how they want to realize their individual packaging vision – quickly and in a goal-oriented way. The consulting services range from designing future production and individualisation of final packaging, through process and material flow planning, to simulation or optimisation tasks. In this way, Schubert-Consulting enables manufacturers to address the new market requirements – from price-sensitive consumer purchasing behaviour and the increased demand for individualised consumer goods to ecological packaging materials – in a cost-effective way.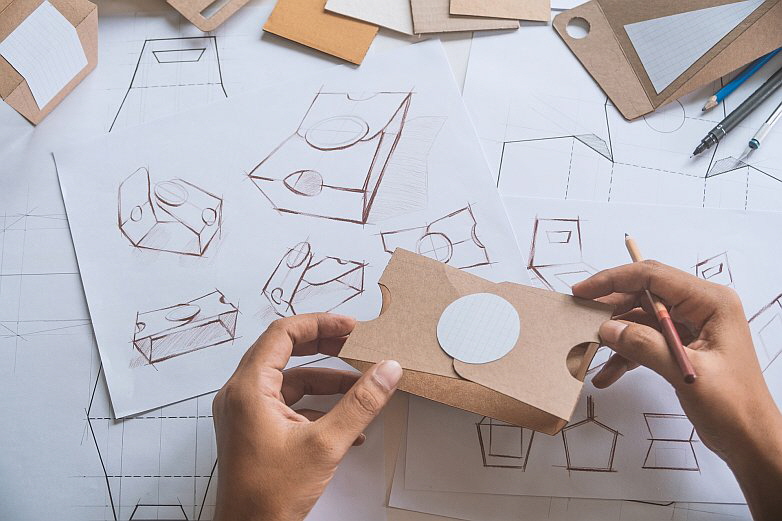 Digital packaging machine solutions achieve best performance



Packaging processes are becoming increasingly complex due to greater product diversity and smaller batch sizes. Gerhard Schubert GmbH is responding to this trend with 'simplicity'. With this in mind, the acknowledged market leader in digital packaging machines has been capitalising on its own intelligent machine control systems for decades. The sixth generation of VMS packaging machine controls is a standard component in each and every TLM packaging machine without an electrical cabinet. It ensures optimal performance and maximum flexibility throughout the machine's entire service life.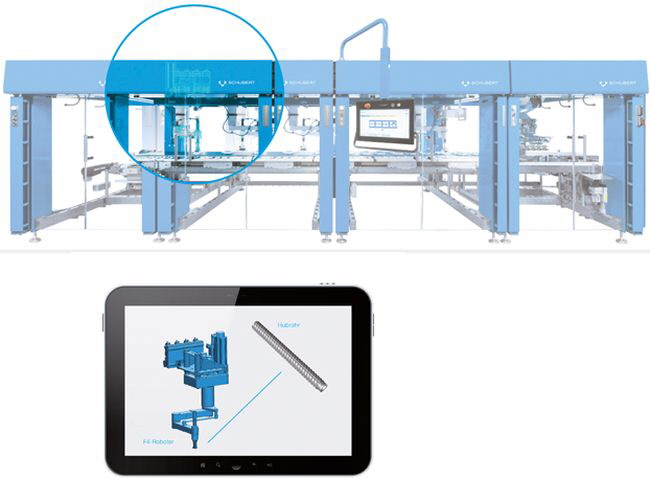 The new data box will provide even more accurate feedback, therefore facilitating optimised levels of maintenance and servicing. In this example, the error notification function indicates that a lifting tube needs to be replaced.



In the future, Schubert will supplement its TLM packaging machines with a data box. It represents the first stage of the emerging GRIPS.world digital platform, which will improve both internal communication and communication with customers, while sustainably increasing overall packaging line efficiency. Schubert will be demonstrating the flexibility of its high-performance technology at the interpack fair with four TLM packaging machines processing confectionery and cosmetic products. In addition to the Flowmodul – Schubert's new flow-wrapping component – visitors will experience a new TLM carton erecting system which defines a fresh new benchmark in terms of performance and format conversion. The Schubert Group will be celebrating a premiere with the presentation of its new expert team, Schubert-Cosmetics. Under the SPS umbrella (Schubert Packaging Systems), the experts in systems engineering and engineering consulting, the corporate group now also bundles its expertise for cosmetics manufacturers.




Digitalisation in view
At this year's interpack, Schubert is presenting its new data box and possible applications of the anticipated GRIPS.world platform. This web-based platform combines all the important functions for monitoring and documenting machine data under a single user interface.

Customers, suppliers and the TLM machines themselves, along with Schubert Group employees, will be able to access the GRIPS.world platform. One component is the data box, which analyses important machine data. The data box, which will also be available to other machine builders, provides the machine manufacturer and its customers with an interface to retrieve relevant information on various areas such as maintenance, control and machine performance. Valuable knowledge for the future can be derived from the data – enabling improved machine performance and customer processes. For example, over the long term, through preventive maintenance and monitoring of machine functions, the data box allows overall system efficiency and production performance to be maintained at a high level throughout the entire lifecycle.

A key element will be the machine's digital twin. This is a three-dimensional image of the TLM machine which can be moved in real time using the original code of the VMS packaging machine control. Customer advantages include significantly accelerated design sequences and reduced delivery times. At the same time, for example, it will be possible to digitally carry out the complete validation of a pharmaceutical machine in advance. It will also be possible to use the digital twin to implement new product formats.

Comprehensive systems for fewer interfaces and increased productivity
In its new developments, Schubert is also targeting integrated systems that are more compact, more flexible and more efficient than conventional systems. The most diverse packaging processes are mapped in a single TLM machine so that interfaces between process steps are simplified or entirely eliminated. For TLM machines, there are fully-integrated thermoforming, sealing, punching and filling units – all without electrical cabinets – for the primary packaging of products, e.g. for shampoo bottles or coffee capsules. This is made possible, among other things, by the Transmodul transport robot, developed by Schubert, with which the interface between primary and secondary packaging can be bridged.

A partnership with KHS for the beverage industry
The Transmodul even connects processes between packaging functions from different machine manufacturers. In collaboration with KHS, a complete system was developed for flexible bottle packaging, which stands out with exceptional flexibility, accessibility and simplicity.





The Flowmodul is the eighth standard component from Schubert and it enables packaging into flow-wrap bags to be seamlessly integrated into a TLM packaging system

.

The Flowmodul – the eighth system component
As the eighth system component, the new Flowmodul enables the packaging of products such as biscuits, bars and other articles in flowpacks – seamlessly – within the proven TLM systems. Image recognition, pick & place robots and the Flowmodul merge into a single system. This system also achieves best marks in terms of space requirements, quality control and flexibility. At the interpack, Schubert will be showing a picker line with five F4 robots, which place biscuits in the Flowmodul's product feed system. A total of 500 products run through the packaging process. The chain speed is controlled by the intelligent robots and continuously adapted to the product flow.

Format diversity for confectionery manufacturers
Schubert will be presenting further flexible application possibilities for confectionery manufacturers using as an example a TLM system consisting of five sub-machines, which packages filled cone-shaped wafers into cartons. The maximum output of this system is 250 wafers per minute. Another exhibit is a line consisting of four sub-machines, which packs biscuit-filled trays into two-piece tins or boxes. With this application, Schubert demonstrates the advantages of automation, which results in considerable savings in personnel costs and extremely gentle product handling. The maximum output of the exhibited machine is 55 tins or boxes per minute with eleven different formats. With this application, customers capitalise on flexibility in production planning and high overall system efficiency.

A central contact point for cosmetics manufacturers
At the interpack, Schubert will be introducing the new Schubert-Cosmetics business unit, where a team of dedicated specialists work exclusively on the needs of this sector. In the future, manufacturers will have a central contact for all questions regarding the filling and packaging of cosmetic products. Schubert-Cosmetics combines the expertise of the Gerhard Schubert GmbH and Schubert Packaging Systems. The team develops, designs and delivers solutions ranging from individual machines to complete systems.

Schubert brings many years of expertise to the special needs of the cosmetics industry. Special hygiene requirements require interface-free total solutions – from filling all the way through to palletising. Schubert machines' modular design in conjunction with the Transmodul enable all processes to be directly linked – from component feed to filling to final packaging – and can be implemented in a single system. With different filling systems – including gravimetric dosing or the new filling system with eccentric screw pumps – Schubert-Cosmetics can respond to customer-specific tasks and product requirements with high-level flexibility.

For cosmetics manufacturers, the newly developed high-performance erector is also capable of processing up to 50 RSC cartons per minute. This machine's carton magazine is able to handle a wide range of carton sizes and automatically converts between one, two or three-lane versions. The compact TLM machine to be introduced at the interpack packs shampoo bottles into cartons.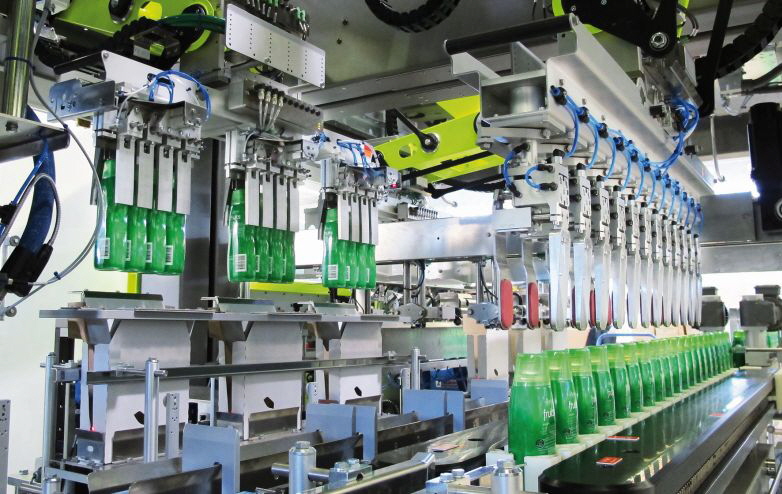 The Schubert Group is now bundling its expertise in handling cosmetic products under the Schubert-Cosmetics umbrella.



A look at the big picture
In addition to the Gerhard Schubert GmbH experts and the specialists from Schubert-Cosmetics and Schubert-Pharma, Schubert Packaging Systems (SPS) will be informing trade fair visitors on its comprehensive range of services in system building and system engineering. As a systems builder, SPS is a cross-company supplier of turnkey packaging solutions to many different sectors including confectionery, food, beverages, baked goods and technical consumer goods. Supplier-independent engineering consulting is part of the portfolio as are engineering studies, project management and line optimisation.




Company profile


With unwavering resolve and a firm eye on the road ahead, Schubert Verpackungsmaschinen focuses on the current and future requirements of its customers. The company is boldly charting its entirely independent course in terms of technology with its commitment to modular and intelligent TLM packaging lines. Its objective is to provide customers with future-proof solutions that are easy to use, are flexible in terms of format, perform extraordinarily well and exhibit excellent functional stability. At regular intervals the company unveils major leaps forward in innovation that offer customer benefits in new dimensions, thereby conquering new market segments with new technologies.

This family-owned group currently run by the family's second generation was established some 50 years ago and employs 1,100 people. Thanks to an atmosphere of mutual trust and a high degree of individual responsibility, the company has succeeded in developing its very own culture of innovation. The Schubert Group comprises German and international subsidiaries from the fields of IT, engineering, precision parts and packaging services.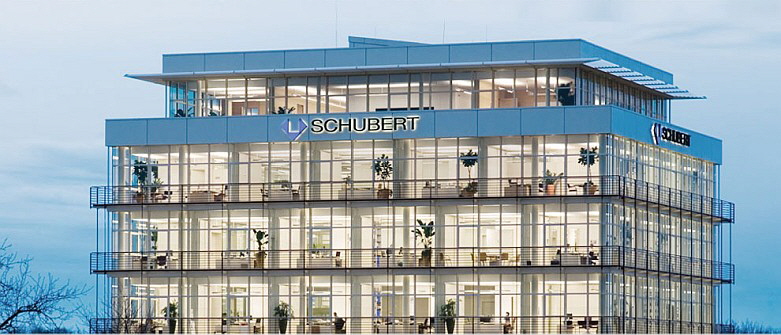 Facebook:
www.facebook.com/GerhardSchubertGmbh
Twitter:
www.twitter.com/GerhardSchubert
Youtube:
www.youtube.com/user/gerhardschubertgmbh
Visit us at the interpack 2021. We would be pleased to meet you on our booth:

hall 14 / booth A06